Professor Elemental – Update
---
We'd like to put forward some insights for you. You spoke, and we listened. Before taking any specific actions though, we wanted to do a little investigation first. We're not normally ones to rush things, and whilst we know that can sometimes be a little frustrating, we hope you'll agree that it's better to think things through, and then try to make the best choices.
Following our announcement of Professor Elemental being involved in Virtual ConFuzzled this year, we received replies from several of you on twitter, expressing that you felt he had previously expressed transphobic views.
This set of responses expanded into a broader social-media conversation, with some expressing opposition to Professor Elemental's involvement in the convention, and others who felt he should continue to be part of the event this year.
We'd like to clarify at this stage that Professor Elemental is not a 'Guest of Honour'. This appears to have been a simple misconstruing of our initial announcement, where we could have been clearer. He is submitting a pre-recorded event for the convention. 
Given the views expressed on his involvement. We initially have chosen to first do a little research to gather the opinions of our staff (we'll be opening this up to the wider community soon).
To allow some transparency here, we can report some of our findings so far from the respondents to our internal staff survey;
66.04% were in favour of continuing Professor Elementals event in vCFz

16.98% were uncertain / ambivalent.

16.98% were opposed.

Out of our trans/GNC respondents, 77.78% were in favour of continuing Professor Elementals event, 22.22% were opposed.

Of the total respondents to this survey 34% were trans and GNC.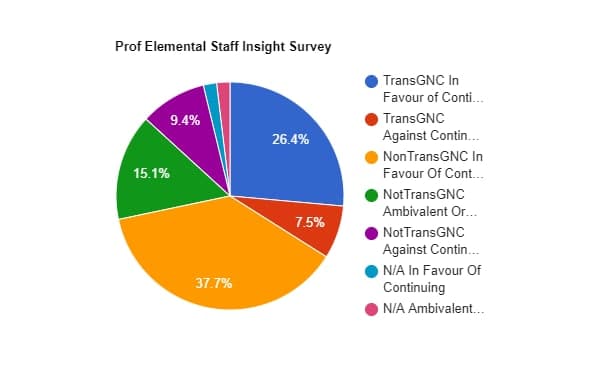 In order to be transparent and to help our staff members consider their response to this survey we provided them with all of the information that has been presented to us and that we have ourselves gathered in our investigation. This includes further social media data, a blog post, and some direct communication from Professor Elemental in response to our queries on these concerns.
This is not meant to be a conclusive or absolute position. Merely an insight into responses from our staff. Our staff are also part of the community, and ConFuzzled is committed to remaining a 'by furs, for furs' event.
As such, we will shortly be expanding the above to be an open outreach exercise, where we will be specifically gathering your thoughts on this matter. This will take the form of an anonymous survey (no personal details will be taken, not even an IP address). You will however optionally be able to leave contact information if you would like to be included in further conversations on this topic.
In the meantime please do not hesitate to reach out with further questions or comments to Outreach@confuzzled.org.uk. 
Stay safe, well, and look after each other.
Kind regards
Yinx
Associate Director: Photography, Theming, Design, Engineering, & Fursuit