---
Registration opened on Friday 1st September at 6PM BST
Registration for the room lottery closed on Friday 15th September at 6PM BST
The Lottery results have now been announced.
Non-Residential and Day Ticket registration is subject to availability, and will remain open after the room lottery closes.

Dealers' Den registration will open shortly after the room lottery results are announced.
How Much Will It Cost?
To find out how much your ConFuzzled registration will cost, use the registration calculator below. Scroll down for a full breakdown of costs and more information on what each of these options means.

Please note the prices in the calculator above are indicative and subject to change. The final cost will be displayed during the registration process.
Pricing Details
Ticket Types
There are several different types of ticket to choose from when registering for ConFuzzled:
Standard ticket: includes access to all four days of convention events and a copy of our ConBook. Or select a Standard+ ticket if you'd like all these benefits and this year's T-shirt
Sponsor ticket: all the benefits of a Standard ticket, a T-shirt, and lots of additional goodies as a thank you for your extra support
Day ticket: for attendees who want to only attend a specific day or days, includes a ConBook
All tickets must be purchased in advance. We do not offer tickets on the door.
Ticket Prices
The ticket prices for attending the convention are listed below.
Ticket Type
Standard
£120

Standard Plus
includes a T-shirt

£135
£170
Full details of this year's sponsorship benefits are coming soon.
Hotel Prices
Important! Like last year, hotel rooms will be allocated by a lottery system as part of your registration. See the full details below.
If you wish to stay in one of the con hotels, ConFuzzled will handle your booking. This is a Residential ticket. Please note these prices are in addition to the ticket price above.
The prices below include a four-night stay (Friday 24th – Tuesday 28th May 2024), breakfast is included for all room types.
Please be aware that due to UK law and unlike many US conventions, we sell spaces in rooms, not whole rooms per booking. This means if you are sharing a room, the prices below must be paid by both attendees.
Room Type
Capacity
Single*
1
£365

Double / Twin
including Disabled Access rooms

2
£300

Executive Room
Double or Twin

2
£442
* Single rooms are not available at the Crowne Plaza
Alternatively, if you live nearby or wish to arrange your own accommodation, simply choose a Non-Residential ticket. Please note Non-Residential attendees are required to leave the convention venue after the last scheduled event each day.
Additional Days
If you have a Residential ticket, you can extend your stay at ConFuzzled by selecting the Early Arrival (check-in Thursday 23rd May 2024) and/or Late Departure (check-out Wednesday 29th May 2024) options.
Room Type

Price
per person
per extra night

Single*
£91.25

Double / Twin
including Disabled Access rooms

£75

Executive Room
Double or Twin

£110.50
* Single rooms are not available at the Crowne Plaza
Day Tickets
Day Tickets are for those who wish to join us for select days of the convention.
Please note, as with a Non-Residential ticket, you will be expected to leave the venue each day after the last scheduled event.
We are unable to offer any attending level upgrades for day tickets.
Number of days
Price
One Day
£40
Two Days
£65
Three Days
£90
Hotel Lottery
Like last year, hotel rooms will be allocated by a lottery system as part of your registration. Here's a summary of how the lottery will work.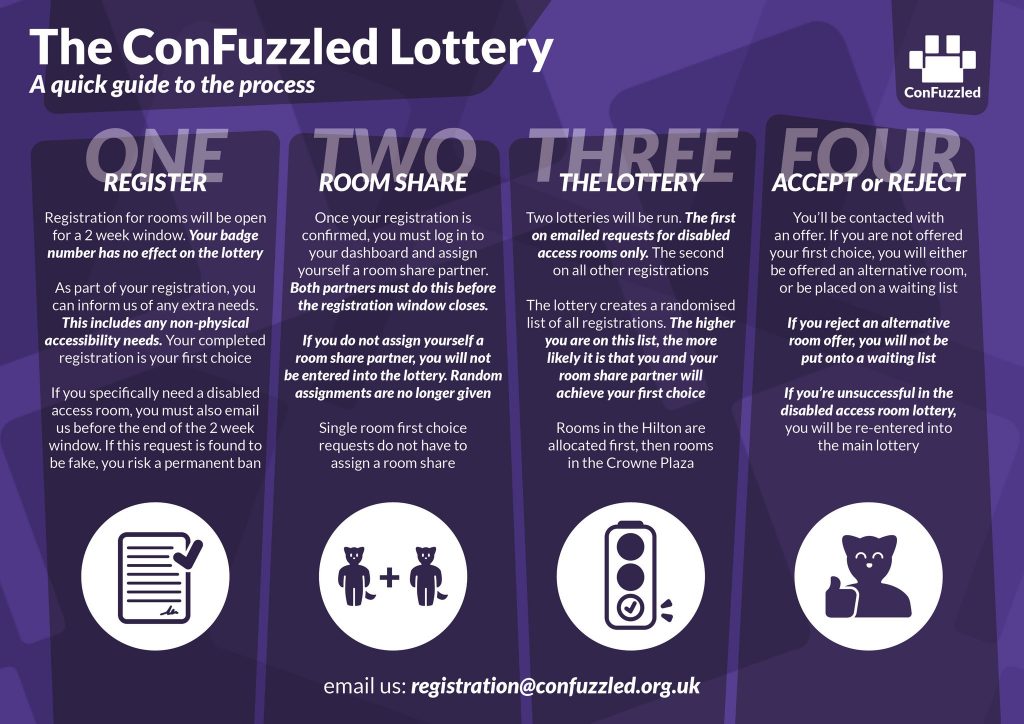 If you can't read the image above, click or tap to view it full size
Accessible Lottery
If you require an accessible room, select a 'Standard Double' or 'Standard Twin' room when registering. After you have completed registration, email registration@confuzzled.org.uk to have your room type updated to an accessible room. This will enter your registration into the lottery for an accessible room.
Unfortunately, the number of accessible rooms is very limited and we cannot guarantee everyone who applies will be assigned one. If you are unsuccessful in the accessible lottery, you will automatically be entered into the main lottery. If you are successful in the main lottery, you will have the option to accept or reject your assigned room before any payment is taken.
Gift Registrations
If you wish to purchase someone else's ticket for them, please email registration@confuzzled.org.uk and we will be happy to assist you.
Please be aware that if you purchase a registration for another person, for data protection reasons the registration will belong entirely to that person. You will not be able to request a refund or change anything on their registration without us receiving written permission from the other party.
Types of Payment Accepted
We accept UK bank transfer, international bank transfer and over the counter payments at any HSBC branch.
Please DO NOT use automated pay-in machines, as they do not allow a reference to be included with your payment, which makes it incredibly difficult for us to locate and apply the payment to your registration.
We DO NOT accept PayPal and are unable to accept Credit or Debit cards this year: If you have trouble paying by bank transfer please contact registration at: registration@confuzzled.org.uk
Refund & Transfer Policies
You are entitled to cancel your registration within ONE WEEK (7 days) of your full payment being confirmed and receive a full refund
If you wish to cancel after this time, we regret that we will be unable to offer you a refund, except in very exceptional circumstances at the full discretion of the ConFuzzled Registration Team and/or Directorate
We allow registration ticket transfers to another party prior to the closing of the advertised registration period. Please contact registration@confuzzled.org.uk for further details.
ID Requirements
You must present an accepted form of CURRENT/IN-DATE photo ID with your date of birth on arrival at Registration.
Accepted forms of ID are:
Passport
Driving licence
National ID Card
International Student Identity Card (ISIC)
Government issued military ID
Proof GB card
Any card bearing the Home Office PASS mark
We do not accept (alone or in any combination): birth certificates, utility bills, bank cards, leisure centre membership IDs, public transport passes or sixth form college IDs. International Youth Travel Cards and NUS cards will not be accepted unless they bear the ISIC logo, as these do not require proof of age before being issued.
NO VALID ID =
NO ADMITTANCE TO THE CONVENTION
If you are unsure whether your form of ID is acceptable, please email registration@confuzzled.org.uk well in advance of the convention to confirm its acceptance.
Terms and Conditions
By registering for ConFuzzled, you must agree to the Registration Terms and Conditions. This includes agreeing to be bound by the ConFuzzled Conditions of Sale and Code of Conduct.
Contact Us
If you have any other questions please email registration@confuzzled.org.uk. Please allow up to 5 days for a response.