---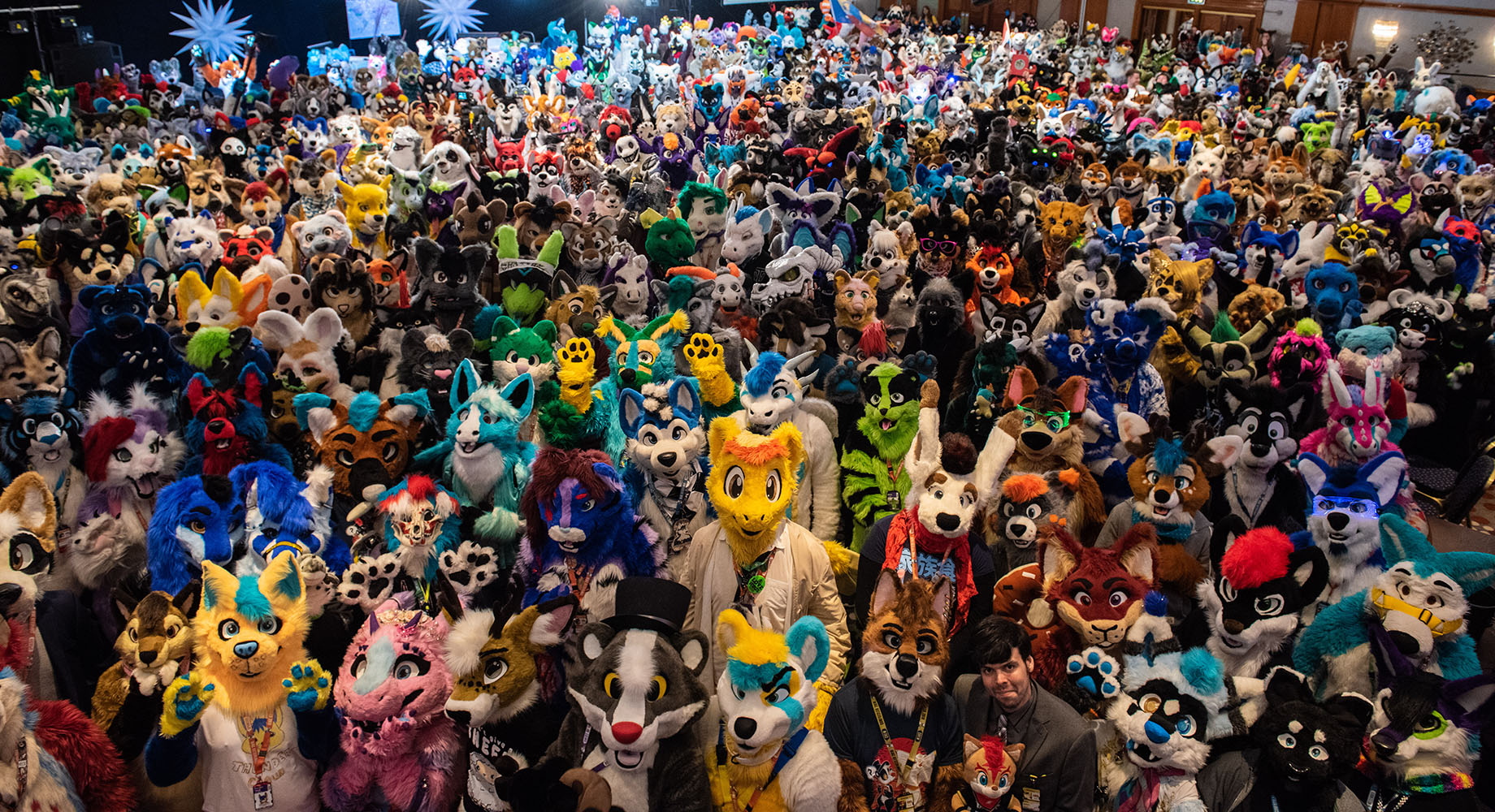 Fursuit Lounges
The main Fursuit Lounge is in the Pavilion room.
The Little Lounge is in the York room.
For opening times, please refer to the convention schedule.
Lounge Facilities
The videos below show our facilities in the lounge and provide a quick guide on how to use each.
Please note: The fursuit team may move your items around. Please ensure you write your name on your coolant packs with permanent marker so you can find them again. It only takes 10 minutes to charge a cooling pack and 20 minutes to dry a suit; please do not leave your belongings in the lounge longer than this.
The Triple AirBlade of Understanding
At the touch of a button, this machine will blow you away! Just stand in front of it in suit for a quick cool down.
Deep Freeze Fryer
This icebath is kept near freezing point and it will recharge your coolant packs in about 10-15 minutes. As soon as the packs are solid, they are ready for use. Please do not leave your packs in the water for longer than needed. Uncollected packs will be moved into the fridge to keep them charged, but the fursuit lounge is not a storage facility.
Head and Body Dryer
This massive octopus dryer will dry your full suit. The centerpoint with the whisks is for drying heads. Your bodysuit will dry in about 20 minutes and your head in less than 10 minutes. Please collect your fursuit after this time and do not leave it in the lounge.
Paw Dryer
This dries handpaws and footpaws. It takes around 5-10 minutes for a drying cycle to complete.
Under Armor Dryer
This machine provides airflow to dry your Under Armor. It takes approximately 20 minutes to dry items.
We also recommend that you wash your Under Armor in your room shower/tub or sink; use regular shower body wash/gel since it is less aggressive than hand soap. Squeeze the water out (wringing can damage it) and leave to drip dry inside the shower or bath tub.
Recharging Stations
Take regular breaks when you are suiting and drink plenty of water.
Water coolers provide cold or room temperature water
There are also isotonic drinks of various flavours in the fridge; these replenish salts and sugars that you lose when sweating
Please dispose of the cups in the bin bags provided
Disinfectant spray is provided for use when you are done suiting. Spray only the insides of your body suit and focus under the arms, the back and bottom, and around the hand and feet openings. You may also spray your footpaws and head if needed, but be careful not to spray the inside of your fursuit eyes; cover with a towel or paper tissues first
Repair Station
Some basic repair equipment is provided for emergency repairs to fursuits. These are usually only for temporary repairs, so be sure to get your fursuit properly fixed after the convention.
Engineering
The lounge equipment is provided by our amazing ConFuzzled Engineering team; check out their Twitter for more pictures and cool stuff: https://twitter.com/CFzEngineering
Know Your Limits When Fursuiting
Even if you take breaks and drink water, there is a limit to how much your body can endure. Learn to recognise all the symptoms below and get out of suit before you are exhausted. Be especially aware of faintness, dizziness, headaches, nausea, and muscle cramps.
If you are in trouble, take off your fursuit head immediately: it helps you communicate and ask for help, and cools you down.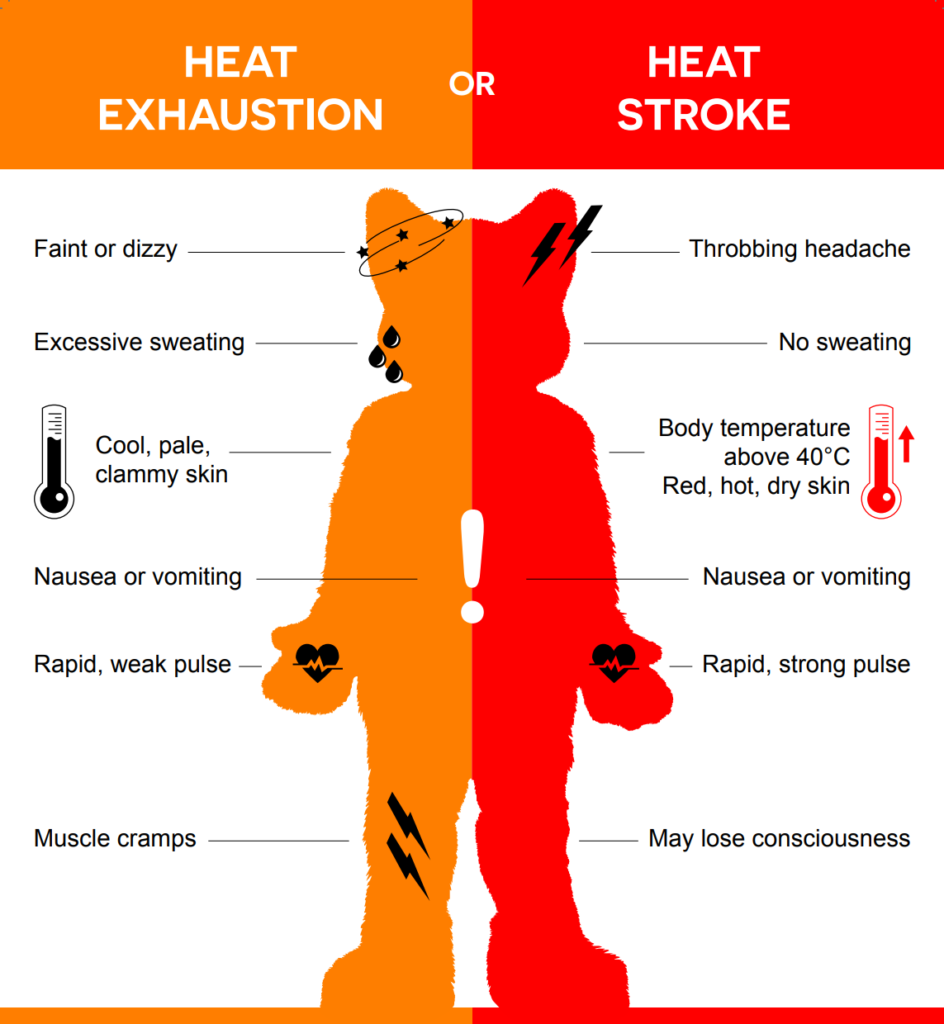 Thanks to our friends at JFTW for the graphic.
Do's and Don'ts of Fursuiting
To keep your fursuiting experience a happy one, we recommend the following:
Do take regular breaks: visit the lounges to take off your head for a while and drink some water. The longer you have been in suit, the more often you should take breaks. Try to plan a schedule that includes breaks ahead of suiting, and keep track of time
Do stay hydrated and fed: drink plenty of water and isotonic drink, and eat salty/sugary snacks while you are suiting. Also drink water for an hour after you are out of suit and be sure to eat a good meal. The snacks in the lounges are only for keeping your body minerals balanced while suiting, they are not a substitute for real food
Do pose for photos: movement causes blurry pictures, so strike a pose and hold it; some cameras need a moment to take the picture and the photographer will usually indicate to you when it's done. If you carry props, be sure to hold them at an angle where they are visible to the camera, e.g. don't hold swords with the thin edge facing the camera. It may not be a natural way to hold the prop, but it makes for better pictures
Do be aware of your tail and other appendages: try not to accidentally hit anyone with it, or push things over on tables
Do visit the Photoshoot events: our team will help you get great snapshots of your suit
Don't take photos in the lounges
Don't bring your own equipment to the lounges such as fans: we have everything you need to cool and dry your suit
Don't suit whilst drinking alcohol: you are already uncoordinated enough and alcohol makes your dehydration worse
Don't stop in a place where you block a corridor: there are many people around and they all have places to be
Don't hog the suit dryers or the icebath: staff will move your stuff if they have to, but we would prefer you do not leave it in the lounge for too long. The lounge is not for storage. It only takes 20 minutes to dry a suit or charge a cooling pack, don't leave them in the lounge unattended