ConFuzzled Registration 2023
---
ConFuzzled are pleased to announce our registration dates for 2023!
Here are the most important bits you'll need to know:
Registration Opens 10th November, 8PM (UK) for room lottery entries, and non-residential registrations (but not day tickets at this stage).
Dealer Registration goes live at the same time.
Registration for the room lottery closes 24th November, 8PM (UK).
Lottery process will run around 5th December – notifications of room allocations then begin to be sent out after this date.
Non-residential registrations will of course continue until registration closes, 30th April 2023.
Day tickets will open at a later date.
As has been previously announced, payment must be made via bank transfer (SEE BELOW FOR MORE DETAILS).
Want more? You know you do! Read on!
Pricing
We've got all our prices up on the website here: https://confuzzled.org.uk/attending/registration/
The main news here is that there are no price increases for room spaces. Whilst we have seen a small increase in the registration fee itself, we're very happy to not be announcing any room-space price increases for ConFuzzled 2023.
"What's this about a lottery?"
We switched to a lottery process for room-space allocation last year, and feel this was very successful. It helped improve the fairness of room-space allocation, sped up the process significantly of letting you know if you'd been successful, and eliminated the need to be online, hammering the F5 key, scrambling to fill out a reg form the moment we went live(!).
We plan to use the same process for ConFuzzled 2023. So, once again, if you're seeking a residential registration, this means you'll have a 'window period' in which to submit your reg form, between 10th November and 24th November.
IMPORTANT: Going for a two-person room? You must ensure your room-share is configured in the registration system before the registration window closes (24th November). If you do not have a room-share setup, then your registration will not be submitted into the lottery run (this does not apply to single rooms, which are for occupancy by one person only). You can do this by entering your room partner's name and/or registration number into the notes section of each registration. For example: if Brok was sharing with Mel then both Brok and Mel enter each other's names into their registration notes.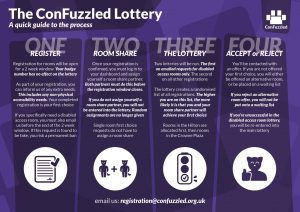 (Click above for a larger info-graphic on the lottery process)
Accessible Rooms
After a rocky start (once more – very sorry about that), we last year – following your feedback – changed the lottery process to not incorporate accessible rooms into the main lottery.
The Hilton's accessible rooms feature more space for wheelchair users, as well as accessible bathrooms with features like grab-rails and additional space.
A separate lottery for accessible rooms will therefore run again for CFz2023. As we have not been able to integrate accessible rooms into the options in our registration system, we instead ask that you follow the below process:
During registration, please select a 'Standard Double' or a 'Standard Twin'. After you have completed registration, please immediately email registration@confuzzled.org.uk to have your registration entered into the accessible-room lottery.
Payment
We once again remind you that for ConFuzzled 2023, we no longer have a credit-card payment option.
International attendee? Unable to pay by bank transfer? NO PROBLEM! Just contact registration@confuzzled.org.uk after submitting your registration to setup an alternative payment method – and they'll guide you through (just pick one of the other payment methods when you register – it doesn't matter which, our team will override this with the alternative payment solution once you contact them).
For more details on why we've had to drop credit card payments, please go here.
Dealers Den
Dealer registration is part of main registration – so this will go live on 10th November too!
For details of our dealers den for ConFuzzled 2023, head here: https://confuzzled.org.uk/events/dealers-den/
If you have questions about the den specifically, please email dealersden@confuzzled.org.uk
Other Questions?
If you've got other registration questions not answered above, please contact registration@confuzzled.org.uk